MEASURE CURTAIN TRACK OR ROD WIDTH
You should MEASURE the end to end of the track or rod, exclude any ending decoration
TIPS: Your curtain track or rod should be placed at least 10cm higher than the window, and be wider than your window by 10% (of the window wide) on each side or 20% on one side.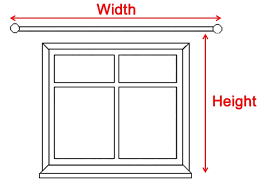 MEASURE CURTAINS LENGTH IN 3 STYLES
Sill Length: From Track End 1.25cm (1/2") above the window
Below Sill: From Track End 15cm (6") below the window
Sill Floor length: From Track End 1.25cm (1/2") above the floor
ONCE YOU HAVE YOUR WINDOW MEASUREMENT
You can simply enter them into our measurement box.
Please select the lining options: Thermal Blackout is 100% blackout and fully insulated. It is recommeded for bedrooms and single glaze windows. Light Filtering is a poly-cotton lining which helps to protect the materials from the sun fading while letting some lights coming through during the day.